In one year, the fresh-thinking agency, YW Istanbul, saw 100% growth in department revenue and doubled their headcount – and they attribute it all to their clever use of data.
"We put GWI data first and we get results – that's why we're seeing so much growth and clients are choosing us over bigger agencies."
As with any new team starting out, getting the support you need to grow ain't easy. For YW Istanbul, the rooted Turkey-based creative agency, with just a handful of clients to their newly-established media department, they knew they needed something to pit them against the competition in a serious way.
But talking to brands that were used to dealing with bigger and more established agencies, their work was cut out for them.
The challenge
Driving growth with little support.
Leading a new department that served digital media advertising, strategy, buying, data science, pitch strategies, target audience strategies and everything in between, Selin Ergin Acar – Digital Media Manager – knew it wasn't going to be easy.
"We'd be dealing with two to three media plans a week, about five campaigns a month, quarterly presentations and a whole load of reporting daily, which for a small team is hard to manage."
Knowing she needed the team to scale fast by bringing on some high-value clients, she turned to GWI.
The action
Taking pitches and projects to new heights.
"I honestly couldn't believe the data I suddenly had at my disposal – we could identify so many opportunities through the platform for new prospects to go after that we'd never even considered before."
Tapping into a wealth of data across 47 markets and 40,000 data points on every and any audience they needed, making an impact was suddenly a lot easier.
Using GWI to first identify opportunities around who to target – and next, to guide their pitches – the team suddenly went from no clients to five.
Being recognized as an agency that knew how to run with data-backed ideas and get results meant building on that momentum.
In the midst of COVID-19, behaviors were changing faster. Clients knew this, but with little reliable insight into what was happening in the online space, they were relying heavily on traditional marketing channels.
"Detail is key when it comes to understanding your audience – and for many clients we met, that's what was missing. In Turkey, 99% of people use smartphones. That means no matter who your audience is, they're online. We needed to remind them of this, and of the fact there are ways to get a truly accurate view of your audience."
Firm believers in the need to blend survey data and analytics for a 100% true audience view, the YW team started with GWI.
Let's take an example.
"Last week, we presented to a well-known ready-meal company in Turkey. A key problem for them was getting their audience accurately defined, and expanding their reach among the right people. Before they met us, they'd been looking too broadly. We defined their audience using GWI, found specific interests and affinities to match against them and uncovered some crucial things.
First, 90% of the target audience liked cooking - so we created Facebook advertising leveraging this insight.
The results speak for themselves and prove why blending data for accuracy is so key:
We reached about 6 million people with just 300,000 Turkish lira – before, they'd reached 5 million ppl with one million lira."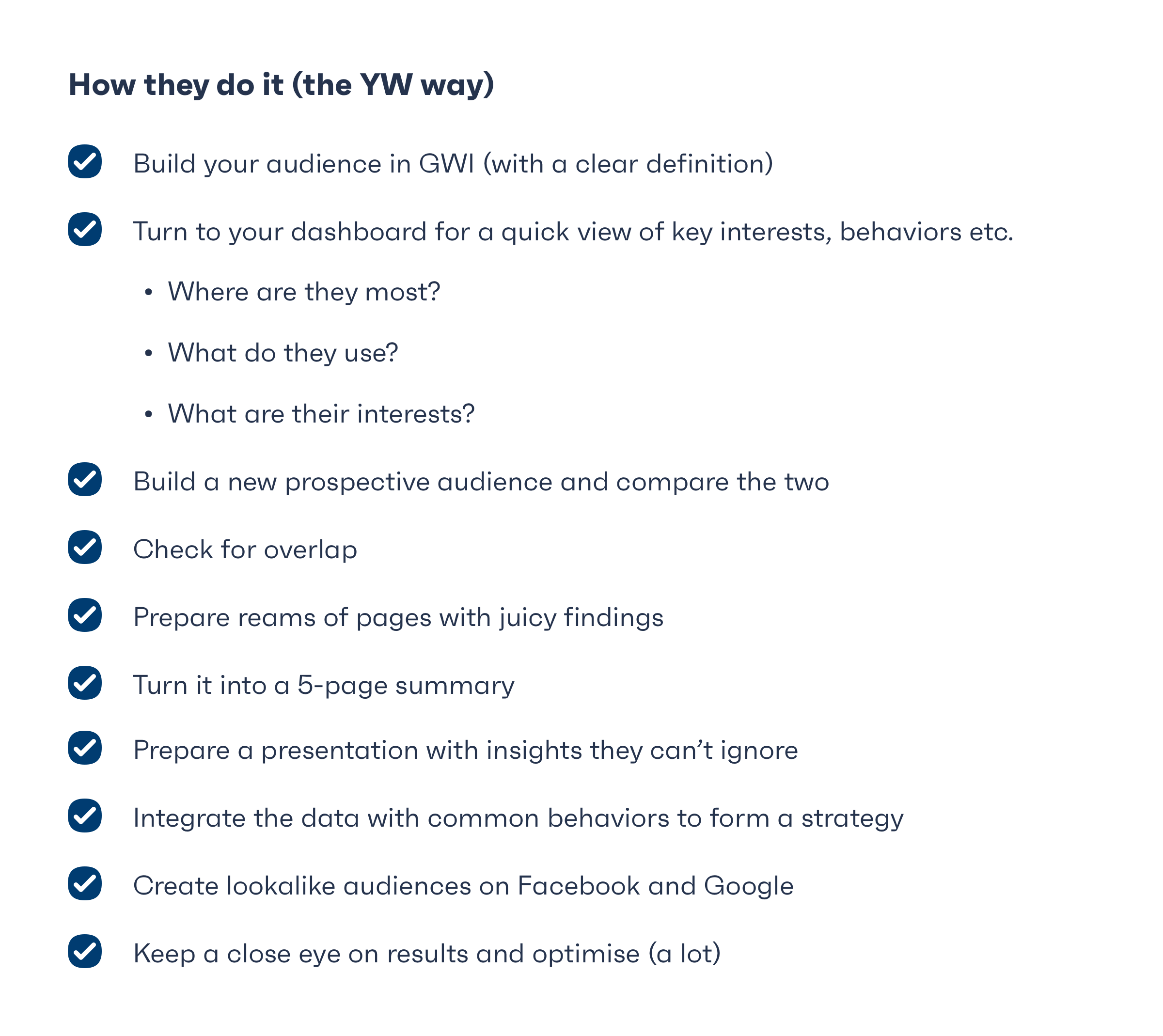 Replicating this approach with others, they're seeing similar success.
The result
Increasing revenue by 100% and doubling headcount in just four months.
"GWI changed our lives and business style – it's as simple as that."
Putting their impressive growth down to their innovative use of data, Selin says using GWI data in client pitches makes them more credible, and makes sure their story has an impact.
But it's not just about the data – it's about how they use it.
"Our growth all comes down to our approach with data. We take a holistic approach, merging and integrating data for the most accurate view, and tying this directly back to client KPIs."
Seeing clients used to working with world-renowned agencies with unlimited resources make the switch to YW, it's easy to see why. Delivering such cost-efficient results proves the unlimited value in precise audience targeting – something only some agencies can get right.
"Our clients like that we're smaller and more agile – but mostly they like that we understand them, and we get results."