A global leader in materials science and manufacturing, Avery Dennison's apparel division uses strategic audience insights to bring fashion brands and retailers closer to consumers.
"The depth GWI brings, and the ability to dissect the data and use it in different ways as a self-service tool, is really valuable and unique."
When juggling multiple customers on a global scale, it can be tricky to gather the right insights to align on their individual priorities - and that vital research needs to happen quickly.
"We're looking at insights from an innovation pipeline point of view," explains senior global trends and insights manager, Amy Lee. "It can be a challenge to keep on top of such a fast-moving industry, with many use cases and stakeholders."
The challenge
Defining retail strategy with mixed data sources
Engaging the right consumers is key to success for any business. But to find the best ways to do that, the team first needed to understand what was changing in the fashion market.
Publicly available research was an easy starting point, but the team soon realized that varying data from multiple sources made like-for-like comparisons of consumer data impossible. The team wasn't confident creating long-term strategic initiatives on the back of such muddled information - it was simply too broad to be meaningful.
"The data can relate to anything. If we take QR codes, we know COVID-19 drove up adoption in restaurants and public spaces to obtain information - and that's relevant to us, it impacts apparel - but we needed to get deeper than that. We wanted to get data that was specific to apparel and consumer engagement with fashion brands."
"An even bigger challenge is sharing those insights in ways that are not too overwhelming for people. Especially internally, everyone is so time poor."
With the retail landscape continuing to shift rapidly, the team needed a single source of truth they could rely on for deeper insights. A more consistent way to explore real consumer attitudes and behaviors toward fashion and ecommerce, and apply those learnings to customer strategy.
The action
Using custom research to prove the value of engagement
Turning to GWI for its harmonized audience research across 50 markets worldwide, the team could easily compare global retail trends and even zoom in for a regional view of digital consumer behavior - all in a few quick clicks.
With more questions bubbling up from their audience research, they also invested in GWI's custom research services to dig even deeper into these insights. Focusing on 5 key markets (US, UK, Germany, France, and China), they designed a bespoke study to investigate how shoppers interact with products via QR (quick response) codes and NFC (near field communication) technology, and whether these digital "triggers" were driving footfall in stores.
"One of the reasons why we were so happy to invest in this study is that it affects everyone."
"We also serve factories, and it's quite surprising how much it matters to them as well. They have their own internal innovation teams and design teams who are also looking at topics like this. So it's quite far reaching. "
With the ability to ask highly personalized questions to consumers across these key markets, the survey also revealed answers to specific questions like:
What features are valuable to people in a store environment?
How do consumers want to engage with brands post-purchase?
What information do they want to receive when shopping in more eco-conscious ways?
"We also asked about attitudes towards sustainability in fashion - so whether people were trying to make environmentally friendly purchases; whether it's important to them to have carbon-neutral shipping; the importance of transparency in the supply chain and manufacturing processes; the social and environmental impact; secondhand fashion - that kind of thing."
As the data collected used a single, consistent methodology, the team could also sync their custom survey findings with existing audience data in the GWI platform for fast and easy comparison - especially useful for analyzing trend changes over time.
"Because we have such a breadth of a consumer base, GWI gives us a really holistic view of what's happening in the industry."
"We're able to compare audiences, regions, and demographics - and obviously you can't do that with static stats found online. You can't dissect them in detail."
The custom research proved so fruitful that the team decided to take things one step further, co-creating a unique white paper in partnership with GWI to help spread the word about their findings. The aim of the piece was to build awareness and credibility in the wider retail industry, with plenty of robust and specific data to back up their strategic thinking.
"With this data, we were looking to illustrate the value of digital connectivity with our customers, helping them to drive better practices, prepare them for legislative changes - which are a huge pressure right now - and also for adopting emerging business models like recommerce."
The result
Growing trust and credibility in the market
The white paper proved a resounding success, receiving heaps of press coverage and cementing Avery Dennison's status as an innovative thought leader in the fashion and retail industry, with rock solid data to prove it.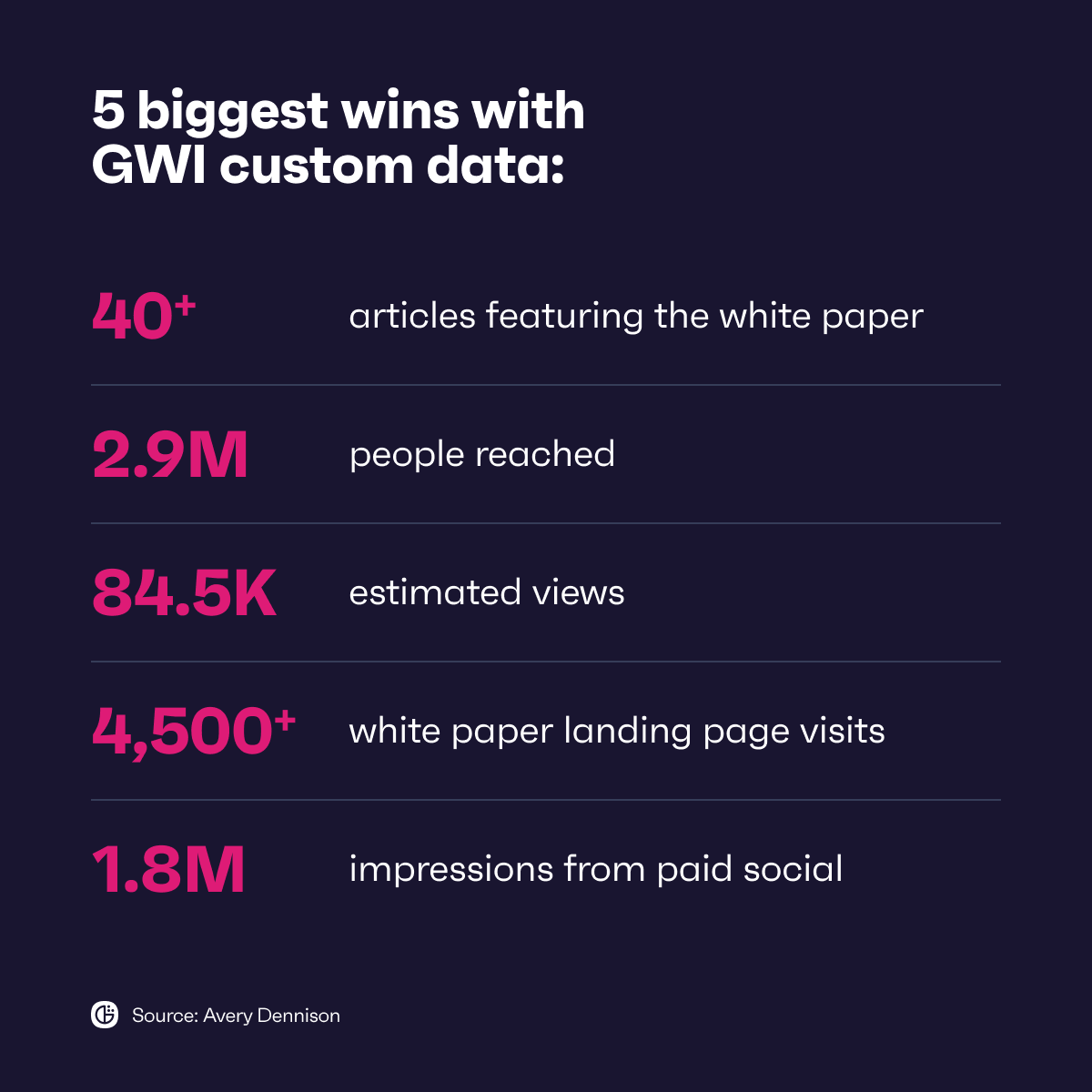 But the result that most impressed their customers? The team's ability to deliver unexpected insights at a moment's notice. Only by running a custom survey were they able to dig deeper into key audiences, down to a level even their customers' data teams wouldn't have the ability to reach.
"Our customers have their own insights teams, so they have a level of insight into what they need - but they still come to us as a thought leader and they really value our contribution."
"Just the fact that we've done bespoke work means we're bringing them something they can't already access."
This depth of research is especially beneficial to customers within the sports sector, where digital initiatives like interactive jersey patches and exclusive in-arena giveaways are driving fan engagement. Avery Dennison already holds embellishment partnerships with several major sports leagues, including the Premier League, MLS, NBA, and NFL. And when it comes to new business opportunities, it doesn't hurt that many sports clubs and teams already use GWI.
"It's a good thing because when they see our data, it's mutually beneficial that we're looking in the same place for it."
"Of course winning new business is an end goal, but it's also about nurturing relationships and gaining credibility in the market for value that goes far beyond product."
Building on their success, the team have since replicated their digital behavior survey for 2023, adding new questions into the mix and expanding into new markets like Mexico and Japan.
Access to bespoke insights like this helps to drive brand awareness and trust in Avery Dennison as leading global retail experts. And the ROI is proving itself.
"We use the custom work for ad-hoc requests as well. So for example, if there's a high-value opportunity with a customer and they're looking at behaviors towards sustainability just in Japan, then we'll leverage it. It's really valuable because that's not the level of detail you get when you're just searching online."
With a consistent way to compare audiences at a regional level, they can quickly identify standout figures to help drive successful long-term strategies. It also helps them quickly get to grips with emerging trends around topics like sustainability, metaverse fashion, and the impact of counterfeit products - factors affecting new and existing customers alike.