Gender pay gap report 2023
GWI has scaled significantly in the past two years and we're now at the size in the UK where we're required to report our gender pay numbers annually.
We're committed to building an inclusive workplace, with gender balance and diversity a key part of that work and to the culture at GWI.
While our gender pay figures show we've got some work to do, we're fully committed to making GWI truly diverse in all the areas we operate. The mandatory reporting requirement is currently only for the UK, but we've decided to review our gender pay gap at all of our locations globally. Singapore is not included as the office opened during the year we take a snapshot of.
Our gender pay gap numbers: snapshot as at 5th April 2022
| | | | |
| --- | --- | --- | --- |
| | UK | US | Greece |
| Mean gender pay gap | 19% | -6% | 21% |
| Median gender pay gap | 23% | -7% | 21% |
| Mean bonus gap | 60% | 12% | -31% |
| Median bonus gap | 60% | -87% | 26% |
| Men receiving bonuses | 75% | 75% | 59% |
| Women receiving bonuses | 76% | 73% | 84% |
In the UK: Our gender pay gap is partially driven by the gender disparity between males and females in the top two quartiles. We're actively seeking to address this balance.
In the US: Our gender pay difference is in favor of female employees.
In Greece: Our gender pay statistics in Greece mirror the demographic of the active tech industry workforce. We're extremely proud to have opened a coding academy at our offices in Athens to upskill more people into the career and with the aim of attracting more female candidates into the workforce.
An equal pay analysis shows that there is no gap in terms of people with equal skills and experience being paid the same for work of equal value.
What do our pay quartiles look like?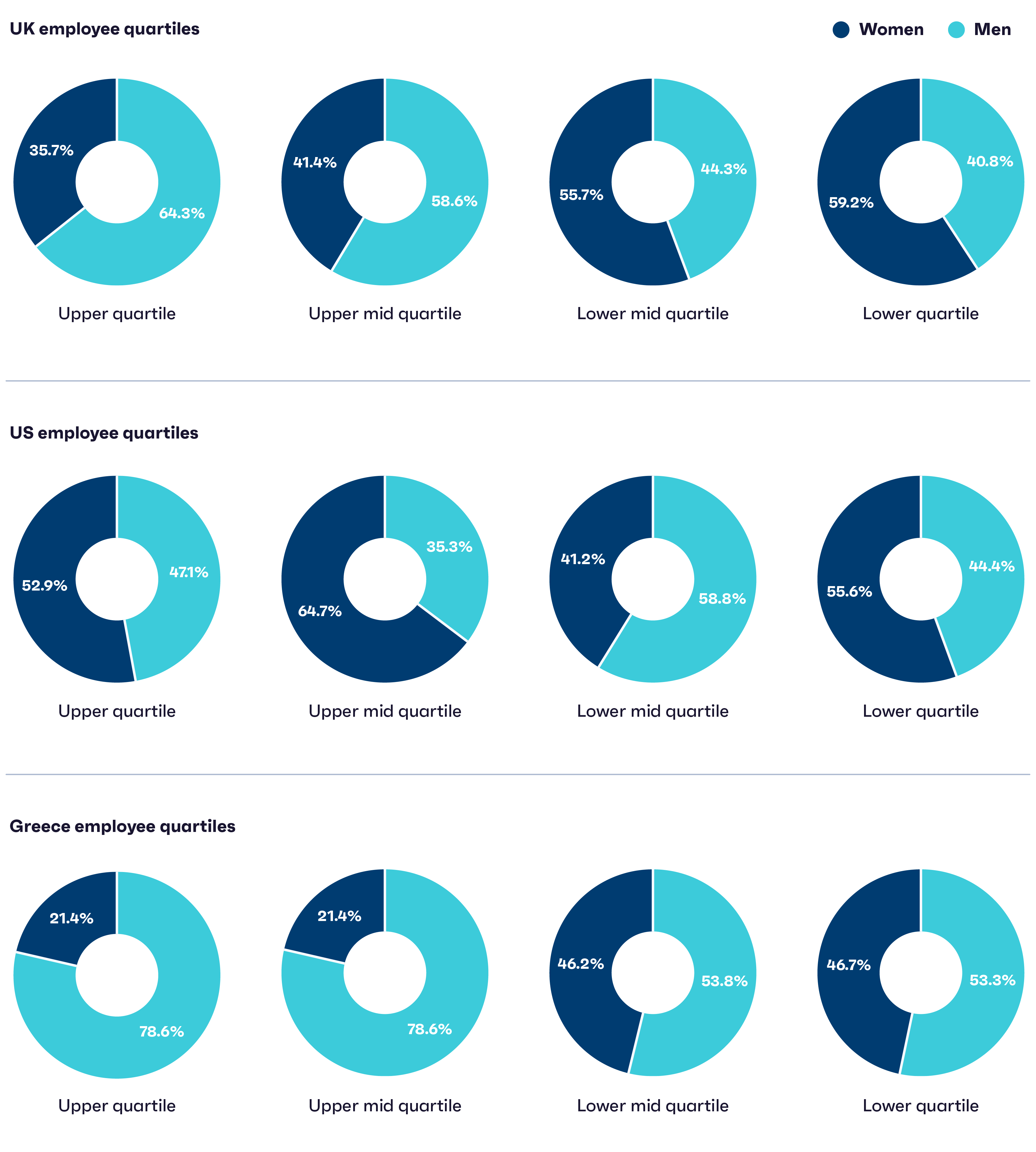 We know there's work to be done in this space and we're committed to driving change. It's our ambition to make GWI a more fair and equitable workplace through a range of initiatives. These include, a company-wide learning program focused on inclusion and understanding unconscious bias, increasing our manager's capabilities and awareness, driving greater transparency around reward, and measuring the effectiveness of our initiatives through data.
Chelsea Coates
Chief People Officer
3rd April 2023